Sort of unreal to say it, but we're officially launching Techtonica into Early Access tomorrow, July 18th, 2023.
Thanks for being here. Thanks for reading, commenting, sharing, Wishlisting, and watching. It's meant so much to our entire team through the development process, and your presence in our community drives this game forward.
So! What's happening with our team and Techtonica at and right after launch? Let's dig in.
Launch time?
We're launching Techtonica on July 18th, 2023, at 1pm EST. That's when we push the big green button, anyways. It should be live within a minute or two.
Fun fact, we're actually doing this as a team, I believe. So the plan is to watch as one of our Leads pushes the button and we launch the game into Early Access. v0.1 should be fun!
Don't forget the Discord hangout
Lauren will go live in the Discord three hours before launch. You can join at discord.gg/techtonica. She'll be live at 10am ET, which could be right now if you're reading this on the 18th.
The plan is to host several members of the Fire Hose team throughout the morning, so get ready to see faces old and new, ask questions, and experience first-hand launch nerves.
Ah, the Reddit AMA!
At 2pm ET, five Fire Hose team members will be live in the r/Games subreddit with an official AMA. If you're already a Redditor, join us. We'll be ready to answer lots of questions, but no leaks. Please, no leaks.
What's the deal with v0.1.1?
v0.1.1 is billed as the Quality of Life update, and it will largely serve stabilization and immediate community feedback. We won't be able to address everything! But we are looking to gather your feedback in the opening weeks and will implement changes in the v0.1.1 patch by mid-August-ish.
You can submit your feedback and discuss/rank other feedback at feedback.techtonicagame.com.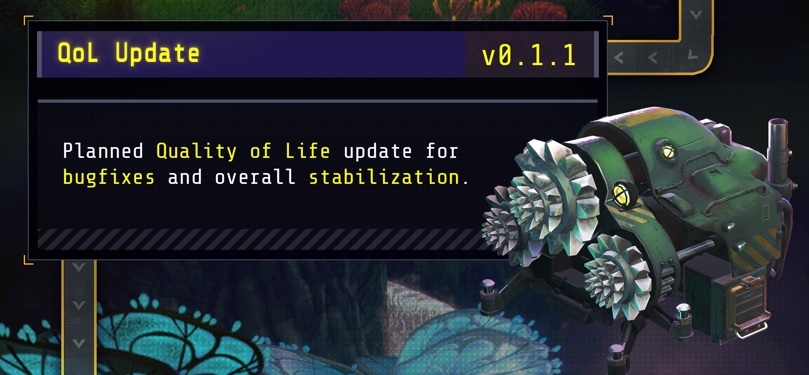 The aforementioned timeline could change! We're responding to your thoughts and issues in real time, and priorities or scale and scope could shift our work, so don't let a schedule change surprise you.
Thanks for hanging out! We can't wait for tomorrow. See you on Calyx!